Screen Goddess Jane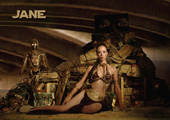 Principal, Mirage Design, Graphic Design & Web Development, QLD

I specialise in helping small to medium businesses grow through creating their new branding, print designs and websites. I also design software interfaces and calendars, including this one!
My career in design started at a software company where I was writing user documentation. Eventually I started designing manuals, presentation material and product packaging before moving on to work with several different design studios.
When I first started my business in 1996 I worked closely with a traditional designer, teaching her how to use computers whilst learning more about design – it was like a mutual apprenticeship! She was (and remains) an amazing source of information and inspiration.
I really enjoy the diversity of working with smaller companies (I just love an underdog!). You've really got to be able to think outside the square. You've also got to be able to empathise with the client and love their business as much as they do.