Screen Goddess Liisa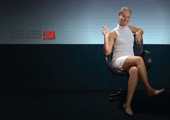 Liisa, Associate Professor at the School of Information and Communication Technology in Griffith University and a proud grandmother of six grandchildren, started working as a programmer and systems developer in Finland in 1969. She continued studying IT and got a DPhil on packaged software provision and use from Templeton College, Oxford University in 1990. Her publications cover software quality management, systems development and use in organizations topics as well as gender aspects of IT education and work (WinIT project see www.cit.gu.edu.au/~jenine/WinITProject/) She is a member of the Advisory Group for the Minister Helen Coonan on increasing women's participation in ICT.
What do you do?
I teach information systems courses to students in an IT degree programme. Information system is concerned with the organizational and human implications of computer-based systems and applications.
What are some of the cool parts of your job?
In my job as an IT educator there is never a dull moment; almost every day new most exiting technologies become available and you also get to know how older technologies have improved enormously. It is interesting to try to figure out what the real value of those technologies would be for the society and people in a workplace.
Describe your best experience on the job?
To see when a person studying the many technical aspects of IT realises that she/he can make the technology work for people in the workplace and at home. After that there is no limits to what they can recommend making a difference.
What have been your most significant achievements to date?
This calendar :
How far reaching do you think your work has been?
The work my group and I have done on gender aspects of computing has been very satisfying, as it has not only highlighted the potential of women in the male dominated IT field, but also helped us understand how IT field is constructed.
What qualities/skills/experience do you have that make you good at what you do?
An inquiring mind.
Have you had any previous jobs/careers? I have always been in IT.
How did you get into IT?
I was studying mathematics not really thinking what I would become. We had to use a computer to do solve some of the maths problems, and thus we all needed to acquire some Fortran programming skills to do so. The programming skills helped me to get a part-time job in the IT department of a local newspaper printing company. Eventually I became a chief systems analyst for their production control systems.
What motivates you?
To see computers used to improve life.
What hobbies do you have?
Latin dancing (salsa, lambada, gaffeira, salsa rueda) and movies, and to play with grand children
Do you have any tips/advice for people who want to get into technology careers?
Give it a go, you might like it!