Screen Goddess Sarah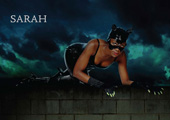 I was born in Kenya but now call Australia home. I am spirited, extroverted, spontaneous, compassionate and deeply loyal to my friends and family. I come from a highly professional, driven, supportive and closely knit family. This has been one of my pillars and inspirations. I love my life and I live it with passion. I value honesty, integrity and compassion.
I am an outdoor person with a love for hiking, mountaineering and most adventurous sport. As Business Development Manager for Volcano live, I have been able combine my love for seeking new business leads and adventure. Nothing gets the adrenalin going like an erupting volcano!
Keeping fit is very important to me as I believe that good health is one of the keys to a happy life. Brisk walks or slow paced runs in the early hours of the morning invigorate me. I enjoy cricket, tennis, rugby union, soccer and basketball.
Travelling the world and experiencing different cultures is a favourite indulgence when budget allows. Its enlightening meeting new people and seeing how diverse cultures live in different parts of the world. Of all the places I have been, New Zealand rates as one of my favourite holiday destination; It appeals to my sense of adventure. Second to that are Nepal and India.
I am ambitious by nature and love to constantly challenge myself. I find challenges important for personal growth and development. One never truly knows what one can achieve until tested - I am also a strong believer in will power.
I specialised in Biochemistry at University. I love innovation and using science and technology to improve our lives - be it in business or at home. That is what attracted me to Biochemistry and eventually to IT. I have worked as a research scientist, in health education, ICT Industry development initiatives and strategic policy. I have been a member of the Management Committee of the Gold Coast Region IT Forum since 2003, and Secretary since 2006.
I believe that my strengths are in my interpersonal skills, strategic thinking, diligence and ability to get on with the job. I have found these skills useful in any career I have ventured into. I believe in working smart, and that things are best accomplished with minimum fuss.
I also believe that is important to give back to community - especially through mentoring. This is more so important with young girls and career choices - particularly IT and science in general. It is a priority to me given my African heritage and the need to empower women, in Africa - and the world.
I am entrepreneurial by nature and constantly looking for new ideas. I have recently embarked on a venture (www.sky-data.com) that is close to my heart - helping ICT firms get their solutions into the African market. Innovation is one of the keys to unlocking some of the issues in the African continent. This venture enables me to give back to Queensland through finding export markets for some of the amazing ICT products we have here, and at the same time provide much needed ICT solutions to Africa. It is my desire and aim to spend a lot of my time and energy in this venture over the coming years. I know it will be very fulfilling- it already is despite the challenges of getting everything off the ground!