Media Room
Any media enquiries please contact Sonja Bernhardt - +61 416 248 236. Sonja is the innovator behind the screen goddess initiative and is happy to provide digital footage of the making of the calendar, media statements, and the real story behind the calendar. A full media pack can be made available. Email inquiries to sonja@itgoddess.info
Making of the Screen Goddess Video now available online.
IT Screen Goddess Media Statement
We're doing this to:
Smash through the perception of the geeky technologist.
Put a spotlight on the industry and increase national interest and awareness (in careers in information technology).
Raise awareness of the diversity of Women in IT.
Raise money for non profit groups that run initiatives to encourage females to take up technology studies and to enter technology careers.
Promote organisations and companies involved in and supporting IT, through sponsorship/promotional opportunities on each page of the calendar.
More then just a calendar, the IT Screen Goddess Initiative is a national media and advertising campaign designed to reach target audiences we have failed to reach via traditional means.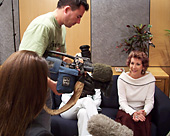 The calendar aims to dispel the "geeky" image of IT and the perception that IT is not a desirable career for women, by providing a life expose of real women with unreal careers – all living and loving IT. We hope you enjoy it as much as we enjoyed making it!
Reasoning
IT profession perception, predicted skills shortages, and low IT Course enrolments, specifically of females is a very pertinent and current issue in Australia. A National ICT Skills Summit was held in Brisbane on the 21st and 22nd of June 2006 to address these issues.
Much has been debated and written all around the world about the declining interest of women in taking up technology studies and careers. Many active, committed people and groups have tried multiple strategies and tactics, including role modeling, mentoring, career days and awards.
Sonja Bernhardt, the innovator behind the Screen Goddess Initiative believes it is also time to adopt a new approach. That is to utilize mass media and popular themes to directly meet and challenge mainstream audience misperceptions about the industry and more specifically about women in technology.
Sonja is passionate about technology and the value of technology careers. She believes the value technology professionals provide to our society, not just for work, but from leisure, health and entertainment perspective should be more recognized and the profession esteemed as highly as other more 'glamorously' perceived careers.
Thus the theme "Screen Goddesses of IT" capitalises on society's admiration for movie stars, showing real "goddesses" of the computer screen, a selection of real women working in Information Technology.
Project Information
A diverse range of models was selected to represent the reality of a variety of roles – from software to hardware, from students to managing directors – as well as a wide range of ages, ethnicities and body shapes.
Each month includes a biography of the woman featured that month, as well as a significant date in technology history, covering leading technology women such as Ada Lovelace, Grace Hopper, Hedy Lamarr, Anita Borg and our Australian contingent of WWII General MacArthur Bureau female cytologists, Diana Ryall, and Ann Moffatt.
100% of profits will be distributed to active industry groups to go towards supporting role model, career events, mentoring activities, and other intervention projects plus nominated technical, scientific and medical funds/associations.
The Endeavour Foundation has been contracted to do the packaging and distribution.
Typical groups who will receive the profits are available on the AWISE (Australian Women in IT and Science Entity) web site awise.org.au - eg. www.wit.org.au, www.witwomen.org.au, and www.gidgits.org.
For further information download one of our Media Release documents:
Official Media Statement (Word doc, 89kb)
Other Items of Interest (Word doc, 43kb)
Controversy (Word doc, 23kb)
Goddess Posters go on sale on Ebay (Word doc, 24kb)
Calendar errors (Word doc, 22kb)
Media Coverage so far...
Media coverage to date has been wide and varied in opinion. Here are some copies of articles so far:
Bair Unfairness by Kate Lundy (Word doc, 337kb)
An informative intelligent opinion piece by Senator Kate Lundy - August edition of MIS magazine.
Tech Chic by Claire Doble (pdf, 231kb)
A balanced article by Claire Doble of the Sydney Morning Herald.

New Woman Magazine, August 2006 edition.
Extensive coverage in Austrian IT Magazine, e media.

Di Bauwens in The West, WA,
August 16 2006 edition.