Screen Goddess Natalija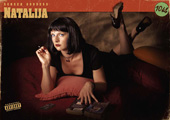 I am the Creative Director of Seedpod, a graphic design and web development studio in Perth. This is a solo enterprise which formed in November 2005 from a demerge of myself from a similar company I was a director of since 2002.

I have carved out a unique niche in the Perth community for my creative work for business, arts and community based clientele. I love who I work with and often feel like I have the dream job!
My clients include arts, music, youth, government, creative projects, embryonic business ventures and larger corporations.
My online presence is currently focused around my creative journal. This inspires me daily as I have a tangible reason to create, it encourages me to pick up my camera and to express my opinions and inspirations in the world of design and art. I have found my IT skills have always given me the ability to be active online and market myself in ways other print-based designers can not.
I also work as a photographer, which compliments my design work. My photographs have been exhibited in galleries and featured in magazines across the globe.
And on the side of all this, I work on community arts projects and do training with students and professionals alike as I am passionate about creativity, connections and design education.
I got a Bachelor of Arts (Design), Curtin University, Western Australia (1998) and I am self taught in web and computer technology.
My Career Highlights
2005 - Worked as a design and photography trainer and consultant for Divine Word University, Papua New Guinea as an Australia Business Volunteer. I spent six weeks running intensive workshops for both staff and students. My focus was on building capacity in design software and understanding, culminating in the development of a new logo for the distance education centre. The highlight was facilitating photography classes with journalism students and introducing them to ways of seeing and creating meaning through image principles.
2002 - 2005 - Director of a design studio focused on graphics, branding, publications and website development. I co-founded the company with two other directors and grew the business to a seven staff structure. The company continues on with its established niche.
2005 - Co-project managed 'Concrete Dialogues', a collaborative online writing project based on a Google Map of Perth which successfully received both ArtsWA and Australia Council funding. This innovative project received much acclaim from the wider arts community.
2006 - The Harmony Mural Project. I approached the Town of Vincent with new ideas for public art that would have wide appeal through its more graphic qualities. I was looking to step away from the ubiquitous mosaics and graffiti to create something that could involve the community from beginning to end through its workshops and approachable method.
My Inspirations
Photographing as a process of community engagement in their environment
Facilitation and Workshopping that builds confidence and connectedness through the medium of art
Socially Sustainable Business Practice
Relaxation, Reflection and improvement of self
Colour theory
Dreaming & Energy Work