Screen Goddess Kara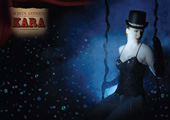 Operations Manager, Eduka

This year marks ten years of my involvement in the IT industry: beginning at school when I first realised computers weren't just for boys, to 2006, my fifth year of actually working in the industry in various capacities. In such a short time I've seen huge changes in the way the world communicates and it's for this reason that IT interests me so much. With technology changing so frequently it is a fascinating industry to be involved in and a challenging one.
I began my career a web designer in 1999 and soon learned that my design knowledge is better spent on appreciating other people's work, and not so much on creating my own! In less than a year I had begun to move on from pure design work, instead becoming more involved in other aspects of the business. Being fortunate enough to work for people who were willing to give me every opportunity to develop, I gradually discovered that my management skills were superior to my design skills. Over the years I've drifted into the position of Operations Manager, dealing with most of our clients, managing most of our projects and being heavily involved in the day to day occurrences in the business. It's perfect for me because I still have the mental stimulation of working in a fast paced artistic industry while honing the skills of my true calling - dealing with and managing personalities.
Career aside, I also have a life! With the time management skills I've had to learn at work I am able to navigate a varied social life; dinners, coffees, plays and live music gigs fit into my week along with all the usual chores. Being so closely tied to the web helps me keep abreast of everything going on in Perth - from annual arts fests to weekly gigs at my various locals. (Because they keep shutting down the best Perth has to offer, my "locals" now range from Freo to Mount Lawley and everywhere in between!) With so much going on there isn't a lot of room for relaxing, but I do get away to my parent's farm now and then where my Nicole Kidman calendar styles cannot follow. My country upbringing keeps me grounded and spending time on the farm gives me the chance to recharge in time for a few more months of activity.
Travel also forms a large part of my life and claims a large part of my bank account. After a recent 6 week whirl through the Czech Republic, Croatia, Slovenia and parts of the UK I desperately needed to slow down and relax - cue four days in Brisbane to shoot this calendar! Life's tough!
Apart from being the perfect excuse to take a few days off work and wander around in the delightful heat of Brisbane (and let's not forget dressing up in diamond jewels and glitter encrusted lingerie); I also thought that this would be a great a way of getting the message across to other women that IT is not the intimidating "man's world" that some people still tout it to be.
This calendar displays IT as it really is. People working in this industry are intelligent, vibrant and versatile, creative and dynamic. With the huge range of knowledge required to navigate a field so diverse, we are forced into always learning, always adding to our skills and never becoming complacent. Our industry is unique in the pace at which new developments arise and it takes an agile mind to stay on top...which probably explains why I've slowly drifted over to management where I can quietly let others keep up with all the latest advances!
I hope everyone who sees this calendar enjoys it as much as I enjoyed being involved in it. It shows off the diversity of women working in our industry and the many opportunities open to women wanting to build a career in IT - and to the men wanting to date them!