Screen Goddess Judy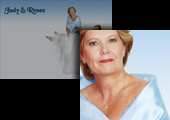 Hello. My name is Judy, I'm a Primary ICT Coordinator of a private school on the Gold Coast. I have been at the school for 10yrs and really love it. I started out as a lower primary teacher and for the past 6 years have been teaching computers.
I am happily married and are proud of our three children -two daughters and one son. My eldest daughter married a year ago and is also an ICT teacher. My other daughter is in real estate on the Gold Coast while my son is finishing a diploma in Christian Studies in Sydney.
I haven't always been a school teacher. When I was younger I was an operating theatre sister, midwife and Hospital Coordinator. Over the years I was privileged to deliver many babies some of which I then taught at my school. I found this a unique and very rewarding experience. This is something not many people have the opportunity of doing.
My job as Primary ICT Coordinator keeps me very busy. I teach 24 classes in one week from grades 1-7. My job enables me to see the excitement of little kids faces when they first begin to use a mouse and keyboard right through to the grade 7 students challenging each other on Math programs and accomplishing web sites development. I also do the school video editing which although is very time consuming is really enjoyable. I love creating using technology.
Recently our students have engaged in a new online Math program. I have never seen kids so excited about Math. During break times we have 60 - 70 kids lined up waiting for computers. It's a new program that allows the students to challenge other students live online Math around Australia. They love the excitement of competing against other students live on line. I'm sure it's a new form of learning that will begin to emerge more and more in the classroom. Kids love competition - computers and of course the Internet.
Every school has some students who normally struggle with their school work and it's great to see these kids embrace computers and come alive in their ability to produce amazing work using their new computer skills.
Like most schools we are in the process of are of integrating ICT into the Primary curriculum. This year has been a busy year with the writing of our school ICT curriculum. Fresh new technology such as wireless, whiteboards, laptops, on line teaching programs, video and audio libraries are part of this centuries classroom.
Where else would you be but in the class room seeing the growth and excitement on the faces of our next tech generation.
I decided to be part of the It Calendar because I like the idea of portraying Women in It as normal hard working women in the work force. IT is not a male only world in fact women play a large role in technology. I'm proud to think that I am directly involved in teaching kids and planting seeds for the 'Love Of IT' in the hearts and minds of the next generation.