Screen Goddess Jennifer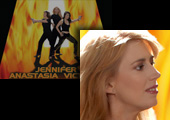 Analyst/Programmer, QLD

I have been working in the IT industry for the past 15 years. My role covers everything from establishing functional requirements and design documentation to developing, testing and deploying our clients' systems. A large part of my role is also providing customer service, being a first point of call for any problems our clients may experience with their IT systems. During my career I have had the opportunity to work on a variety of projects based in different locations such as Brisbane, Sydney and England and enjoy getting to know our clients' businesses so we can design systems to suit their needs.
I first got into the industry by completing a Bachelor of Business Computing at QUT. As part of this course I was able to participate in their Cooperative Education Program which gives students the opportunity to gain real world industry experience by working for an organisation for a year between the second and third years of their degree. I would highly recommend this program for students as it provides a better understanding of the industry prior to graduation, as well as the opportunity to earn some income while studying.
Being an Analyst/Programmer requires having good problem-solving and communication skills and is both a challenging and rewarding career. I have also kept my skills up to date by doing training courses in new technologies and also completing a graduate certificate as part of working towards obtaining my Masters degree.
I enjoy the variety of work that my role brings and working in a team environment. I have worked with some wonderful people many of whom I have stayed close friends with over the years. In my spare time I enjoy travelling, catching up with friends and going to the movies or going to watch local bands.
I was approached by a friend to do this calendar shoot and enjoyed the experience of making the calendar, even though I was 18 weeks pregnant at the time. I hope it will promote the many roles that a career in IT has to offer and encourages more women to enter into the IT field, especially at a technical level.