Music
IT Screen Goddess Score
Verse
Be a goddess or a queen on that little screen.
Soar as high as you can go,
And be the star of your own show
Have the freedom to achieve,
and live what you believe
Release your mind and dream... yeah
Chorus
Reshape your world.
Reshape your world..... (fade)


Music biography - ALASTAIR LEE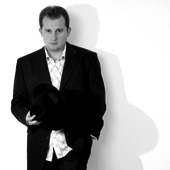 Classically-trained singer/songwriter Alastair Lee has provided the original score "Screen Goddess" for the Women in IT calendar advertising campaign.

Based in Geelong Victoria, Alastair has just released his debut album Influences, on the independent Guinlee Music label.

Over a year in the making, Influences is a tribute album to the many great music styles and performers that have influenced Alastair's musical development over the years. The album covers an eclectic mix of jazz, theatre and country and showcases Alastair's song-writing skills with five original tracks. The album can be heard on radio stations around Australia.
An experienced performer, Alastair has performed at hundreds of concerts, gigs and other events around Victoria in recent years with his four-piece band the Shardonnays including appearing in various stage shows.
Alastair has enjoyed the opportunity to provide the music for the Women in IT calendar campaign and he hopes that it encourages more females to enter the IT profession.
For more information on Alastair visit his website at www.alastairlee.com.au.